Press Release May 2018
FOR IMMEDIATE RELEASE
May 2018 (Sarasota Florida, USA)
E-VISION™ HAS STREAMLINED THE INTELLECTUAL PROPERTY LICENSING PROCESS FOR COMPANIES SEEKING TO DELIVER NEW PRODUCTS UTILIZING E-VISION™PATENTED TECHNOLOGIES IN THE VISION MARKETPLACE 

Today companies in the vision industry are on the hunt for "what's next" as consumers continue the early adopter trend in selecting products with enhanced features.
The rapid advances in technology have opened the door to new products that enhance our lives.  Traditional vision care companies are now faced with the same technological challenges of being first to market or face the very real possibility of being left behind. Speeding up internal R&D or securing advanced technological partners in the vision industry has always been a challenge.  Companies must create products that are new and offer unique, futuristic features to keep up with consumer demand. "To help companies speed up the process of IP acquisition and make it easier to license technologies like the ones we have created, e-Vision is taking a two pronged approach to licensing our Intellectual Property", Joel D. Zychick, President & CEO e-Vision. 
Streamlining the licensing process
The first step, we continue to build a robust internal licensing department, with a focus on traditional vision applications (spectacles, contact lenses, IOLs and ophthalmic medical devices). This is a logical path for our company, as e-Vision has access to many brands in the industries through its Board of Directors and shareholders. We realized the process for licensing had to be much easier to implement across the vast spectrum of patented technologies we can license to our partners. Today the due diligence, information transfer and licensing process is much easier with our new internal licensing department.
Increasing access to e-Vision™ technologies
The second deliverable was to set up an easy to access technology licensing business so companies can quickly review, understand and license our patented science. The rapidly expanding Augmented Reality (AR) and Virtual Reality (VR) market is new to the vision industry. The participants and brands that are jumping into that market are related more to the consumer electronics market. We found the number of companies working on or marketing these products in the vision care market is growing at a rapid pace.  In the AR/VR market, e-Vision is in discussion with well known licensing companies to introduce
e-Vision's wearable frame technology and Intellectual Property. e-Vision continues to communicate with all companies in need of licensing opportunities in this arena.
To experience other e-Vision technologies please visit our website, www.evisionoptics.com
For licensing or joint venture information please contact,
Contact: jz@evisionoptics.com
__________________________________________________________________________________________________________________________
Press Release April 2018
FOR IMMEDIATE RELEASE
April 2018 (Sarasota Florida, USA)
E-VISION™ ANNOUNCES THE WORLDS FIRST DEMONSTRATION DEVICE FOR LIQUID CRYSTAL ELECTRONIC CONTACT LENSES. A DEVICE THAT UTILIZES e-VISION PATENTED TECHNOLOGY THAT COULD SOON BE FOUND IN ELECTRONIC CONTACT LENSES AROUND THE WORLD.
Companies will be able to see how the Electronic Contact Lenses (ECL) now in development will work as the device electronically shifts focus on demand utilizing e-Vision Smart Optics patented technology available for licensing now.
E-Vision™ Smart Optics is proud to announce the successful completion of an electronic contact lens platform device to demonstrate the ability to electronically change diopters in real time to prospective licensing partners. "People are amazed as they see the lens in action, realizing how this technology can impact our industry by offering electronic diopter control. Our first in category electronically controlled features must be seen to believe", Joel D. Zychick, President & CEO e-Vision. The Electronic Contact Lenses will offer impressive features including onboard power/control, remote setting and activation, dimensions that fit within current contact lens size requirements, and up to four diopters of control, or more, that can be switched in 50 milliseconds.
The Science behind the patented Electronic Contact Lenses
Sandwiched between three thin layers of polymer are two layers of liquid crystal, 8 microns thick.  In the unpowered mode, the liquid crystal molecules are in their relaxed state and provide no optical power.  When a small voltage is applied, the liquid crystal molecules begin to change their optical properties resulting in focus changes in the lens. The current device can be switched to one, two or three diopters of optical power but many other combinations can be designed into it, including higher and more distinct optical powers.  The commercial product will have its base optical power molded into the polymer, while the liquid crystal changes the optical power as required.  For example, if someone was near sighted, the contact lens would be molded to provide the user with best corrected distance vision, then be able to switch as needed to pre-programmed near focus, close intermediate focus, intermediate focus and distance.  All power, electronics, optics and communication components will be inside of the contact lens.  The power source will provide energy for a full day's use and be recharged wirelessly when removed from the user's eye overnight.
The prototype
The Electronic Contact Lens unit was created to demonstrate how the final product will perform.  A small camera allows the focus changes to be seen on a monitor, plus the lens can be removed from the camera and hand-held to look through and see with your own eyes the focus changes. "The device makes an impressive statement when you consider the scale required for the electronics and the increased performance Electronic Contact Lenses will provide", Tony Van Heugten – Chief Technology Officer of e-Vision. Helbling, known around the world as a leader in electronic advancements in integrated technologies, is a valued partner behind this new technology.
The global contact lens market is anticipated to reach USD 17.72 billion by 2025, according to a report by Grand View Research, Inc. (Aug 2017). An extension of contact use from 1-5 years in the existing base of contact users, could increase the contact lens profits in the industry by billions.
E-Vision Smart Optics, Inc., headquartered and with laboratories in Sarasota Florida, develops technologies related to the eye care industry.
To experience other e-Vision technologies please visit our website, www.evisionoptics.com
For additional information or high-resolution images,
Contact: jz@evisionoptics.com
__________________________________________________________________________________________________________________________
Press Release Nov 2017
FOR IMMEDIATE RELEASE
NOV 2017 (Tokyo, Japan — Sarasota Florida, USA)
NEW LIQUID CRYSTAL LENS TECHNOLOGY EYEWEAR UTILIZING e-VISION PATENTED TECHNOLOGY TO LAUNCH SPRING 2018
Electronic Liquid Crystal Eyewear to Become a Reality in 2018 Mitsui Chemicals Inc., Tokyo Japan, with business interests in Japan, Europe, China, Southeast Asia and the USA, has announced the upcoming 2018 launch of eyeglasses that switch electronically between near and distance viewing utilizing e-Vision patented eyewear technology.
Utilizing "TouchFocus," self activating touch sensor, in-frame battery and electronic control, this new product switches from near to distance in an instant. The rechargeable battery originally designed for about 10 hours of continuous use has proven to work up to two weeks as tested by internal employees. This battery combined with embedded electronic technology allows the user to control their eyewear through out the day.
"We are excited to see this new product move into launch, as this is another example of our patented technology providing advanced performance based on our science", Joel D. Zychick, President & CEO e-Vision.
E-Vision Smart Optics, Inc., headquartered and with laboratories in Sarasota Florida, develops technologies related to the eye care industry. The Mitsui Chemicals, new "TouchFocus" glasses, targeting the presbyoptic market utilizes patents from the e-Vision portfolio of 375 patents issued and/or pending and the 150 patents owned by third parties, that e-Vision controls. E-Vision continues to be on the cutting edge of technology, another notable patent use is the current development of tunable optics e-Vision is developing for NASA.
Existing corrective lens market – Global market expected to grow from $7.4 billion in 2012 to $12.5 billion by 2020(1)
To find out more about this and other new technologies go to www.evisionoptics.com
Contact: jz@evisionoptics.com
(1) Grand View Research – Contact Lenses Market Analysis and Segment Forecasts to 2020
__________________________________________________________________________________________________________________________
Press Release Feb 2016
FOR IMMEDIATE RELEASE
NOV 2017 (Galveston, TX— Sarasota Florida, USA)
E-Vision Presents Scientific Poster at Annual Meeting for NASA- and NSBRI-Funded Investigators
"Electronic Adjustable Eyeglasses for Space and Earth" Poster Demonstrates Design and Methodology for e-Vision's Fully Tunable Eyeglasses
Anthony Van Heugten, James Allen and Harry Milton today presented a scientific poster at the 2016 NASA Human Research Program Investigators' Workshop, the annual meeting for NASA- and NSBRI-funded investigators. The poster describes the development program for e-Vision's Electronic Focusing Eyeglasses to address loss of vision in astronauts during long-term exposure to microgravity on space flights.
Applying E-vision's platform technology, Smart Focus Optics™, these Electronic Focusing Eyeglasses will feature an almost infinite number of prescription settings. The wearer will have the ability to instantly change far, near and middle-vision settings, which will be customized to the individual's own needs.  These eyeglasses have the potential to provide astronauts with an immediate solution to visual changes that occur in space and may be useful to aid in an astronaut's visual accommodation on earth once the space tour has been completed.
E-Vision is developing Electronic Focusing Eyeglasses for space travel under a grant from NSBRI-NASA. The theme of this year's workshop is "Frontiers in Human Space Exploration Research." The workshop's goal is to provide an informal, collegial atmosphere for cross-disciplinary interaction.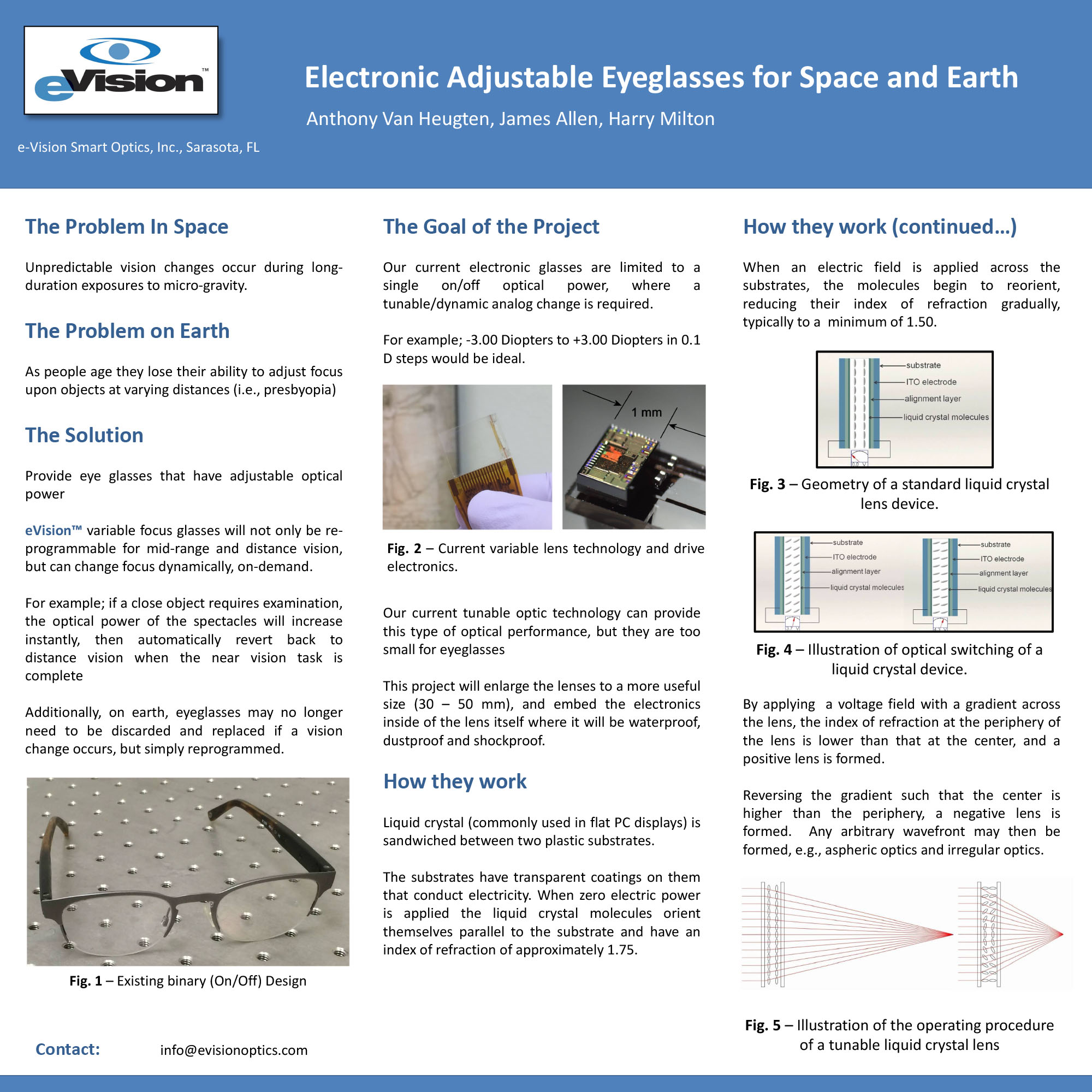 __________________________________________________________________________________________________________________________
Press Release Nov 2015
FOR IMMEDIATE RELEASE
NOV 2017 (LAS VEGAS, NV, — Sarasota Florida, USA)
E-Vision Accelerates Development Program for First Fully Tunable Electronic Contact lens  
New patent, funding and commercial partnerships to deliver only contact lens allowing continuously adjustable focus
E-Vision Smart Optics, Inc., a Sarasota-based company specializing in electrically-modulated tunable lens technology, announced today that it is developing the first electronic contact lens (ECL) that will allow the wearer to continuously adjust far, near and middle-vision customized to the individual's own needs.
This proprietary lens-based technology, already fabricated for electronic focusing eyeglasses, ophthalmic diagnostic equipment and in development with the U.S. military for augmented-reality head mounted displays, will now be integrated into standard contact lens designs.
Several important strategic efforts support e-Vision's accelerated timeline to bring this fully tunable ECL to market.  E-vision recently closed a round of financing within its existing shareholder base to fund this development program.  Additionally, the National Space Biomedical Research Institute (NSBRI), a science institute established by NASA, this week issued e-Vision a grant to develop the first fully tunable electronic eyeglasses to address the deterioration of vision that astronauts experience during space travel.
E-Vision has nearly 550 patents issued or pending worldwide to protect its intellectual property.  Its latest patent issued on October 13, 2015 (US 9155614 B2) titled, "Flexible dynamic electro-active lens," provides exclusive use to e-Vision for the use of any flexible lens containing electro-active materials.
"E-Vision is the leading developer of electrically-modulated lenses and the fully tunable electronic contact lens is the exciting next phase in our development," said Joel D. Zychick, President and CEO of e-Vision.  "This will be the only flexible contact lens giving the end-user the ability to choose from a variety of prescription settings and to dynamically change focus while correcting for a variety of visual impairments, including myopia, hyperopia and higher order aberrations.  The first prototype of e-Vision's ECL will be available by late next year."
"The platform technology behind e-Vision's ECL is based on years of research and fine-tuning to identify the best known methods for activating electro-optics in liquid crystal to achieve visual outcomes that have never before been available for a contact lens," said Philip J. Bos, Professor, Chemical Physics Program, Liquid Crystal Institute at Kent State University.  "E-Vision has forged close working relationships with scientists, the U.S. military and the private sector, all of whom have collectively contributed to significant advancements in this field as well as our understanding of electronic lenses."
About the ECL
E-Vision's ECL will have the same look and feel of a traditional flexible contact lens, but unlike fixed lenses, it will allow the wearer to select pre-set focus ranges to change prescription in as little time as 200 milliseconds.  Featuring the Company's Smart Focus Optics™ platform technology, the ECL contains an electric field surrounded by a tiny, near invisible layer of liquid crystal material (similar to the screen on a laptop or smart phone).  When powered with tiny amounts of electricity (microwatts), uniquely placed electrodes activate the liquid crystal layer and specific optical focus profiles can be achieved.  These profiles can create hyperopic or myopic spherical shapes as well as aspheric shapes. E-Vision's ECL power requirements are incredibly efficient so the lens can operate independent of frames or wearable charging stations.
About e-Vision
E-Vision has been a pioneer in electronic lens modulation with more than 15 years of experience designing and fabricating optics that control and shape light with no moving parts.  E-Vision's platform technology, Smart Focus Optics™, relies on electrically modulating optics and lenses to refract, diffract or diffuse light. This tunable technology can be applied to lenses of any kind – including eyeglasses, contact lenses, intraocular lenses, VR & AR systems and camera lenses.  And, it can be integrated into either flat or curved surfaces, whether rigid or flexible.
E-Vision is a privately held Delaware-based Corporation with its development facility and administrative offices located in Sarasota, Florida. The parent company was established in 1999 and its initial focus was technology licensing and transfer activities for lens-based applications. In 2010, e-Vision created Smart Optics, Inc., to expand its development platform to also address all conventional and/or fluidic/liquid lenses that have electronics associated with them.  For more information, please visit www.evisionoptics.com.
__________________________________________________________________________________________________________________________